Ÿ technical parameters
The input
Ÿ maximum input voltage: 600 v
Ÿ starting voltage: 120 v
Ÿ rated input voltage: 360 v
Ÿ MPP voltage range: 90 ~ 560 v
Ÿ loaded with Mppt voltage range: 210 ~ 480 v
Ÿ MPPT quantity: 2
Ÿ each MPPT biggest number string input group: 1
Maximum input current Ÿ : 20 A (10 A/A)
Ÿ input terminals maximum allowable current: 24 A (12 A / 12 A)
Ÿ biggest dc short circuit current: 24 A (12 A / 12 A)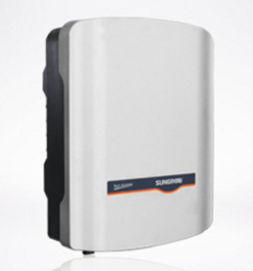 The output
Ÿ rated output power: 4000 w
Ÿ maximum output power: 4400 w
Ÿ maximum output apparent power: 4400 VA
The maximum output current Ÿ : 20 A
Ÿ rated power grid voltage: 230 VAC(single phase)
Ÿ grid voltage range: 180 ~ 276 VAC (conform to the requirements of the corresponding state grid instruction)
Ÿ : rated power grid frequency 50 hz / 60 hz
Ÿ grid frequency range: 45 ~ 55 hz / 55 ~ 65 hz (conform to the requirements of the corresponding state grid instruction)
Ÿ total current waveform distortion rate: < 3% (power rating)
In Ÿ dc component: < 0.5%
Ÿ power factor (under the rated power) : > 0.99 @ full power
Ÿ power factor adjustable range: 0.8 ~ 0.8 lag in advance
Ÿ feed phase number/output at number: 1/1
The efficiency
maximum efficiency: 98.40%
Efficiency: Ÿ Europe 98.00%
To protect
Ÿ island protection: possess
Ÿ dc reverse connect protection: possess
Ÿ ac short-circuit protection: possess
Ÿ leakage current protection: possess
Ÿ dc switch: matching
Ÿ surge protection: dc level 2 / level 3
General parameters
Ÿ size (width x height x deep) : 360 * 390 * 133 mm
Ÿ weight: 11.5 kg
Ÿ installation: wall
Ÿ isolation method: without transformer
Ÿ protection grade: IP65
Ÿ night since the power consumption: < 1 w
Ÿ operating temperature range: 25 ~ 60 ℃ (> 45 ℃ derating)
Ÿ working humidity range: 0 ~ 100%
Ÿ cooling method: natural cooling
Ÿ maximum working altitude, 4000 m (> 2000 m derating)
LED Ÿ display:
Ÿ communications: GPRS/wi-fi matching
Ÿ dc terminal: MC4 (maximum 6 mm ²)
Terminal Ÿ communication terminal: plug and play (maximum 6 mm²)
IEC62109 Ÿ accord with a standard: IEC62109-1, 2, IEC61727, IEC62116, IEC61000-6-2, IEC61000-6-3, NB/T32004-2013
Looking for ideal Photovoltaic Inverters Manufacturer & supplier ? We have a wide selection at great prices to help you get creative. All the Photovoltaic Inverters are quality guaranteed. We are China Origin Factory of Photovoltaic Inverters. If you have any question, please feel free to contact us.
Product Categories : Photovoltaic Solar Power System > Solar Inverter